I'm the type of person who loves to try new products, so usually when one thing runs out I replace it with something new and hopefully better. Every once in a while though a product amazes me so much that I enter a super committed relationship with it and promise to be true to it forever. In other words, Urban Decay Eyeshadow Primer Potion is my primer husband.
I first tried this product a few years back when it came as a sample with my Naked palette, and I was blown away. First, it comes in this really cute purple packaging that always stays nice and clean. You know those makeup containers that look so beautiful when you buy them but a few months in get all dirty and ugly looking? (Nars.....) this won't do that. Second and most importantly, this stuff does exactly what it promises to do and more.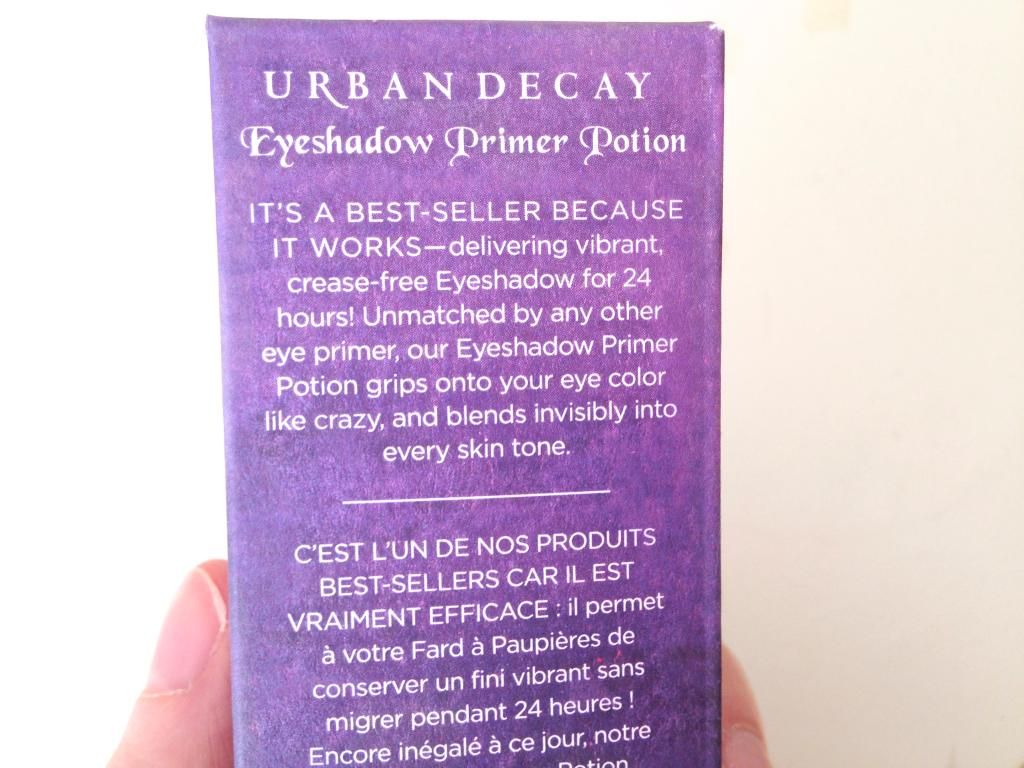 A tiny amount of this blends into the shade of your skin perfectly while masking any eyelid imperfections (redness, veins, etc.). It ups the intensity of your eyeshadow colour, and eyeshadow won't fade or crease until you take it off. I've done my makeup for a night out, danced all night, came home and fell asleep with my makeup on (I know I know I suck) and have had my roommates tell me in the morning that my makeup looks the same as it did before the night began. This stuff is THAT good. Back in high school when I had no idea what I was doing with my makeup I used to wear this cheap drugstore eyeshadow every day, and by the time I would get home it would be all gone except for a dark brown line on each crease. I wish I could go back in time and shake high school me (and while I'm at it maybe tell her that side bangs looked really awful on her).
Okay I'm blabbing. Here's how the primer looks when applied but not blended, so it's kind of a shimmery nude. The size photographed here is 0.20 oz, so it's the "mini" version and only $14. With daily use a tube of this stuff lasts me at least a year because you only need the tiniest bit for it to work its magic. There are also three other versions of this product-- an anti-aging version, and two colours called Sin and Eden which apparently have more of a pigment to them so they can be used as an eyeshadow or highlighter on its own. I haven't used any of those, but they definitely sound worth trying.
Have you tried Urban Decay Eyeshadow Primer Potion?